Lasting Relief from TMD Symptoms
Temporomandibular joint disorder (TMD) can produce a variety of symptoms, ranging from the mild to the severe. Jaw pain is the most common and recognizable of these symptoms. However, other possible symptoms include neck, shoulder, ear, and back pain and even hearing loss. At worst, the symptoms of TMD can be debilitating, greatly interfering with a person's daily routine.
At Forney Family Dentistry, Dr. Melina Morrison can relieve your TMD symptoms through advanced therapies. At our Forney, TX dental practice, our innovative and comprehensive approach to treatment has helped countless patients to alleviate their pain and discomfort and restore their quality of life. We invite you to experience our individualized approach to care for yourself. Contact us today to schedule your initial evaluation and consultation.
A Basic Intro to TMD
TMD is a fairly common condition. However, because the symptoms can mimic those of other health problems, it often goes undiagnosed. If you suffer from TMD, your joints may have been damaged due to jaw misalignment or orthodontic problems. Jaw imbalance can put pressure on isolated areas of your joints. In turn, they may sustain structural damage, or the nearby muscles, ligaments, and nerves can become inflamed.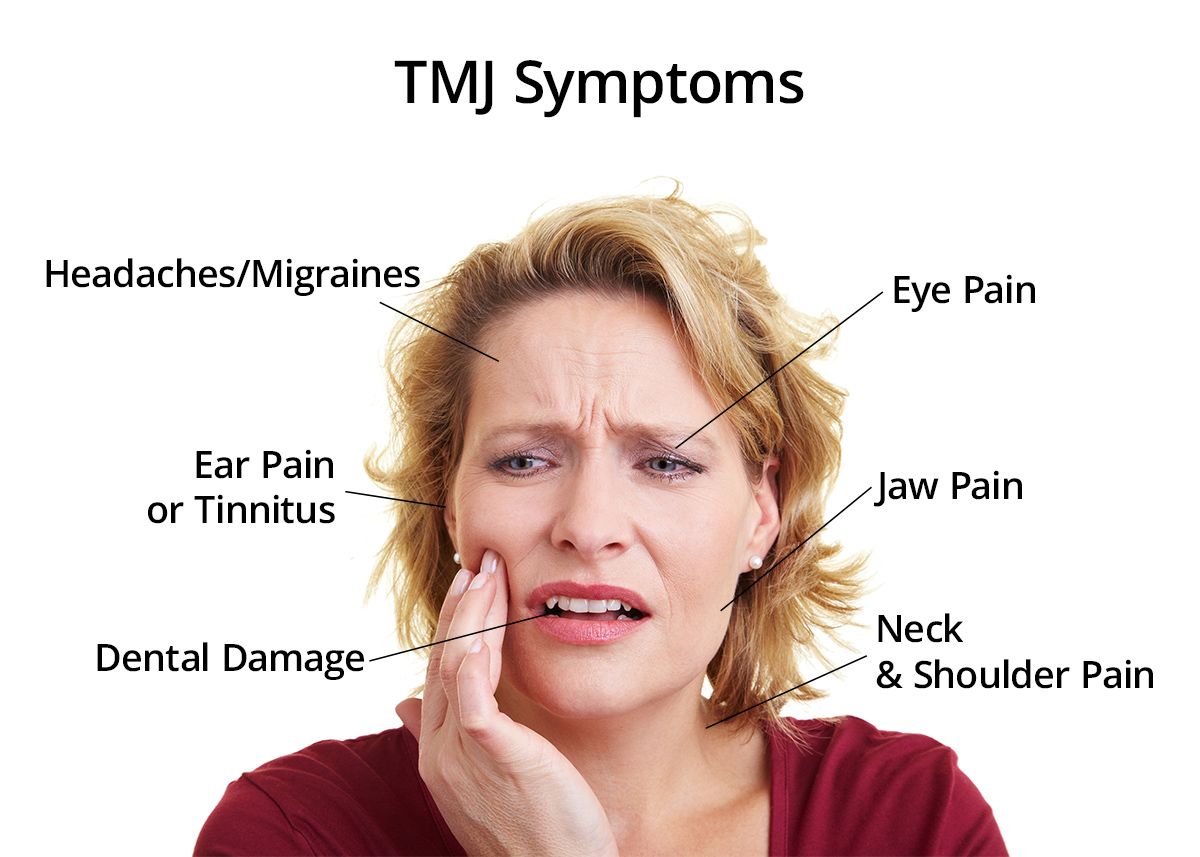 Jaw Pain
Jaw pain is the most common symptom of TMD. Inflamed muscles can cause chronic or intermittent facial pain. Discomfort may be localized, centering on trigger points in your jaw. Frequently, however, pain will radiate across a much larger region. In some cases, the soft discs inside your TMJs can slip out of place, causing the two parts of your joints to grind together painfully. In addition to pain, you may experience jaw stiffness or an inability to open your jaw completely. You may also hear a clicking or popping noise when you open your mouth.
Dental Damage
Bruxism, or chronic teeth grinding, and TMD often go hand-in-hand. Continuous jaw motion can put significant strain on your joints. Bruxism can also damage your teeth, leading to small cracks and enamel erosion. TMD does not directly compromise your teeth. Nevertheless, such damage can be a telltale sign that your jaw is imbalanced or under a lot of pressure.
Additional Symptoms
TMD can produce a number of other symptoms, including:
Headaches/Migraines: Your facial muscles work together in a delicate balance. Strain or inflammation in one area can affect your entire craniofacial structure. Therefore, chronic headaches are a common symptom of TMD.
Ear pain or Tinnitus: Nerves run along the side of your head to your ears, passing close by your TMJs. When this area is inflamed, you may suffer from ear pain, pressure in your ears, a ringing noise, or even hearing loss.
Neck and shoulder pain: Inflammation can spread to the connecting muscles, causing neck pain, shoulder stiffness, and similar discomfort.
Exhaustion: 80 percent of TMD patients also suffer from sleep apnea. Therefore, although exhaustion or daytime sleepiness are not directly related to jaw inflammation, these symptoms may indicate that you have TMD.
Contact Us to Schedule Your Jaw Evaluation
Dr. Morrison will discuss your symptoms and determine the exact cause of your TMD before recommending treatment. Contact us today to schedule an appointment and get started on your individualized treatment plan.