Traditional vs. Implant-supported Dental Bridges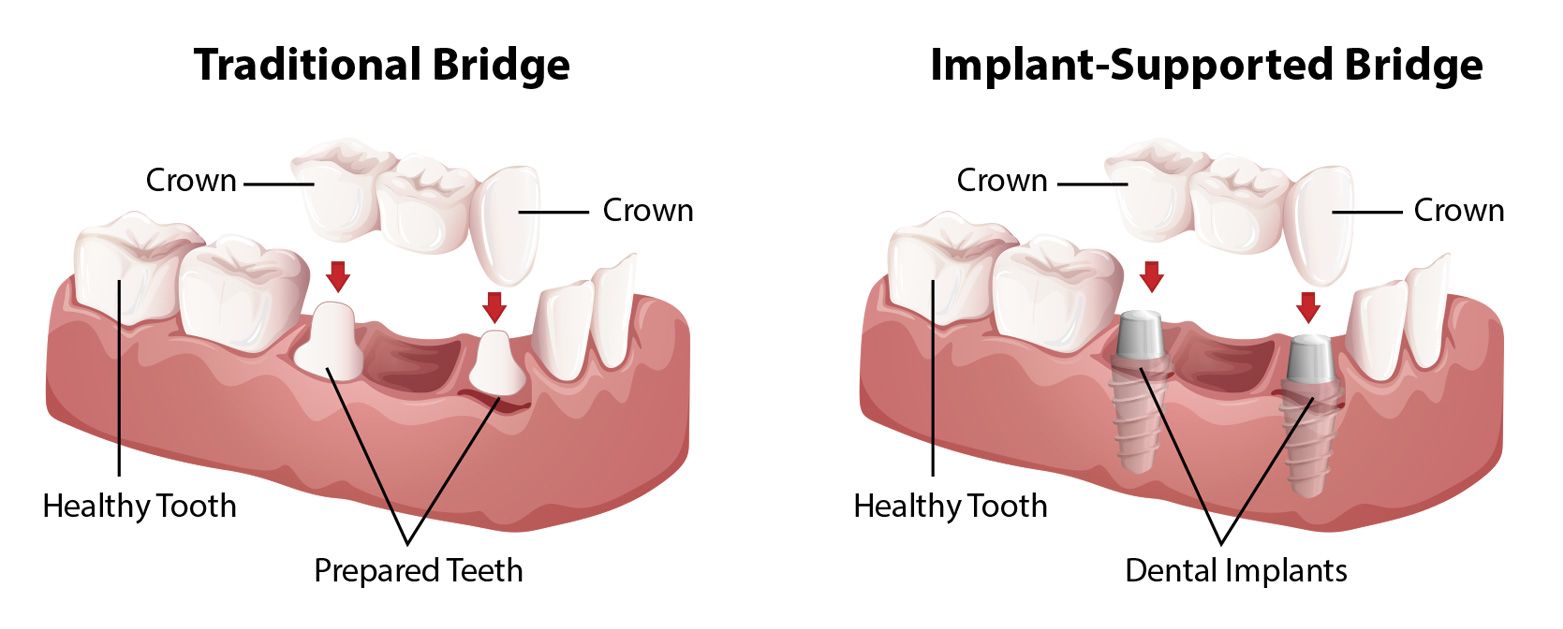 All of the elements of your smile work together for optimal health. That is why it is so important to replace missing teeth. Gaps and spaces can lead to dental problems, including shifting of the remaining teeth, jawbone degeneration, and further tooth loss.
Today, there are several restorative options available, including dental implants, bridges, and dentures to replace missing teeth. Here, our Forney, TX dental team explores two popular teeth replacement options: traditional vs. implant-supported dental bridges.
Conventional Bridges: An Overview
Dental bridges, in some form or fashion, have been used for centuries to replace missing teeth. Today's modern dental bridge are made from different materials, including metal alloys and tooth-colored porcelain.
A bridge consists of dental crowns on either side, with artificial teeth (pontics) in between. When the crowns are bonded to the adjacent natural teeth, the pontics fill in the space left by the missing tooth or teeth.
Pros and Cons of Traditional Bridges
Conventional bridges are typically more affordable than implant-supported restorations, and can be placed fairly quickly. However, some healthy tooth structure must be removed in preparation for crown placement.
Traditional Dental Bridge Treatment Timeline
Traditional dental bridge placement can usually be completed in two appointments. At the first office visit, the adjacent teeth are altered and scans or impressions are taken.
Next, a temporary restoration is placed on any treated teeth. In addition, the impressions are sent to the dental lab where the bridge will be fabricated.
In two to four weeks, when the final bridge is complete, we will schedule your second treatment appointment. During this appointment, the bridge will be securely bonded into place.
Implant-supported Bridges: An Overview
The primary difference with an implant-supported bridge is that the prosthetic is attached to one or more dental implants instead of the natural teeth.
Dental implants are tiny, threaded posts that replace the roots of missing teeth. Once they have integrated with the jaw, implants can be restored with crowns, bridges, or dentures.
Pros and Cons of Implant-supported Dental Bridges
Implant-supported bridges offer a number of advantages over conventional bridges. First, oral health is better preserved because no there is no need for alteration of the natural teeth.
Second, because dental implants mimic the natural tooth roots, jawbone density is effectively maintained.
There are some drawbacks of implant-supported bridges. For example, some patients may not want to undergo oral surgery to have the implants placed, or they may not want to cover the increased cost.
In other cases, patients may not be good candidates for implants due to bone atrophy or other medical issues.
Overall, however, implant-supported bridges are recommended whenever possible. Though they are more expensive upfront, they can last a lifetime with good oral hygiene and routine dental visits.
Implant-supported Bridge Treatment Timeline
Placement of an implant-supported dental bridge generally occurs in three steps:
Dental implant placement: First, the implants must be inserted into the jaw. This can be completed in about one hour during a surgical visit. Once the implant surgery is over, the area will need to heal for approximately three to six months while the bone and soft tissues grow around the implant.
Abutment attachment: When the implants have integrated with the surrounding bone, small connector posts, called abutments, are attached to the implants. These will extend slightly beyond the gums and serve as anchors for your bridge.
Placement of the final bridge: Finally, your custom dental bridge is attached to the abutments. This may be achieved with dental cement or screw-retention. Once in place, you can use your bridge just like your natural teeth.
Contact Forney Family Dentistry Today
If missing teeth are affecting your oral health and confidence, consider teeth replacement with a dental bridge. Call us at (972) 772-4000 or contact us online to learn more.
Related to This