What Are the Benefits of Tongue Scrapers?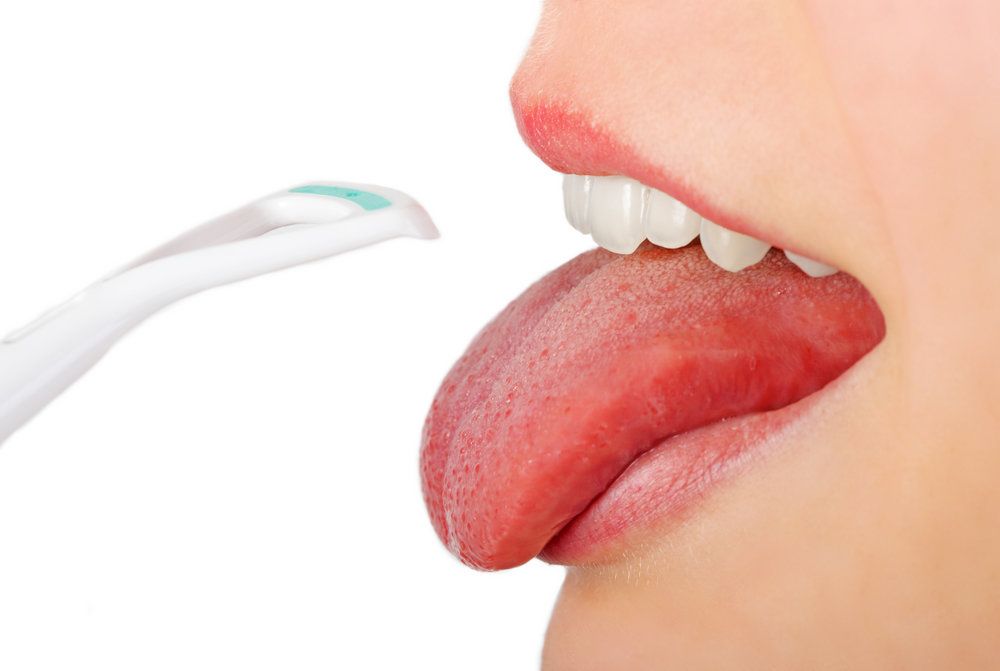 Brushing and flossing can help fight cavities, gum disease, and bad breath. Yet there might be more you can do to get your smile looking its best and being its healthiest. And we don't just mean regular general dentistry visits.
Good oral hygiene is a cornerstone of care at Forney Family Dentistry & Orthodontics, so we're always looking for things that can improve the dental health of our patients. The topic of tongue scrapers has come up a fair amount lately, so we want to cover some of the basics.
What Is a Tongue Scraper?
A tongue scraper is just what it sounds like: it's a dental care instrument that is designed to scrape the tongue clean. They come in different sizes and shapes, but you've likely seen a tongue scraper in some form at the local drug store and other places.
Using a tongue scraper is simple. Just place the tongue scraper at the back of the tongue, pull it forward along the surface of the tongue to the tip. Repeat this motion until the entire surface of the tongue has been cleaned. Easy as that.
Tongue Scrapers Have a Long History
You may not realize it, but tongue scrapers have a long history that goes back centuries. In fact, tongue scrapers were commonly used among people in India, Africa, South America, and the Arab world ages and ages ago. This isn't just a new fad or trend. Tongue scrapers are rooted in effective dental care practices.
Tongue Scrapers Can Improve Your Breath
One of the key benefits of tongue scrapers is that they can improve your breath. Bad breath is commonly caused by oral bacteria in the mouth feeding on food particles. If there's food left on the tongue, bacteria can feast on it. By cleaning off your tongue, you reduce the likelihood of bacteria and food particles being present.
Tongue Scrapers Are More Comfortable Than a Toothbrush
If you've ever used a toothbrush to clean your tongue, you know just how uncomfortable that can be. You may instinctively start salivating or even gag from doing this. Neither of these issues occur when using a tongue scraper, allowing you to clean your tongue without any hassles.
Tongue Scrapers Can Enhance the Cleanliness of Your Mouth
Since tongue scrapers allow people to fully and efficiently clean their tongue, you're more likely to have a cleaner mouth overall. Brushing, flossing, and tongue scraping combined can help eliminate bad breath and reduce your risk for tooth decay and gum disease.
Tongue Scrapers Can Potentially Improve Your Sense of Taste
By taste, we don't mean your appreciation for the finer things in art and culture. We mean your sense of taste. Old food particles and dead cells on the tongue may be affecting your ability to enjoy the flavors of certain foods. With tongue scraping, you may be able to better appreciate your meals and your favorite beverages. This is an important consideration for foodies, wine lovers, and appreciators of craft beer and cocktails.
Are Tongue Scrapers Worth It?
Given the benefits we've listed, tongue scrapers might not be a bad idea for you. If you want more information about improving your oral hygiene practices and your dental health, we'd be more than happy to talk it over during a visit to the practice.
Contact Forney Family Dentistry & Orthodontics
To learn more about tongue scrapers and whether or not they are ideal for your needs, be sure to contact our advanced dental care center today. We will be more than happy to discuss these issues with you during a visit to the practice.
Related to This