Treat Chipped Teeth to Strengthen and Beautify Your Smile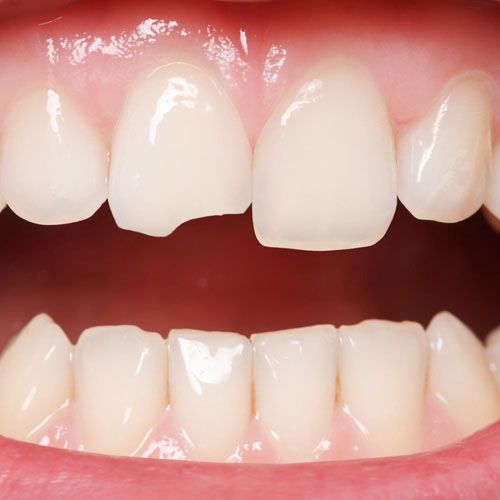 A chipped tooth brings with it several dental concerns. For patients, the primary concern is often the way that a chipped tooth negatively impacts the smile. However, from a dentist's point of view, a chipped tooth is a potential oral health problem. If chips are severe, a tooth may be especially vulnerable to tooth decay or infection. Restorative dentistry treatments can address damage in order to strengthen a tooth and protect it from dental complications. The dentists at Forney Family Dentistry offer several treatments for chipped teeth at our Forney, TX practice. Depending on each patient's unique circumstances, these treatments can enhance the appearance of the smile, restore the strength of the tooth, or both.
Restorative Treatment
If a tooth is severely chipped, restorative dental treatment may be required. Restorative dentistry procedures rebuild tooth structure so that the tooth can function as it is meant to, while simultaneously protecting the inner structure of the tooth to prevent infection.
In the case of a chipped tooth, the most appropriate restorative treatment is a dental crown. A dental crown completely surrounds a tooth to provide strength and protection, while also improving the aesthetics of the tooth. During treatment, the damaged tooth will be reshaped in order to accommodate the placement of the crown. The dental crown will then be designed, taking into account proper fit, as well as tooth color, shape, and size. Finally, the crown will be fabricated and bonded to the tooth. Typically, dental crown treatment requires two dental appointments scheduled several weeks apart. However, at Forney Family Dentistry, we have technology that allows patients to benefit from one-day dental crown treatment.
Cosmetic Treatment
There are cases in which cosmetic dentistry treatments are appropriate for chipped teeth. If a chip is minor and the inner layer of the tooth is not exposed, there is not a great risk of infection or other oral health complications. However, in order to address the cosmetic flaw of a chipped tooth, some treatment must be performed. There are two cosmetic treatments that are likely to be considered for chipped teeth: dental bonding and porcelain veneers.
Dental bonding: Dental bonding is a non-invasive cosmetic treatment. During this procedure, a dental bonding compound will be shaped to the surface of the tooth in order to fill in the portion of the tooth that has chipped off. This material is carefully shaped and filed down, and is matched to the color of the natural tooth so that it blends in seamlessly with the smile.
Porcelain veneers: Porcelain veneers do require that the natural teeth be permanently altered. In order to allow for a close and natural fit, a small amount of tooth enamel will be removed from the facial surface of the teeth. This is a permanent treatment and is also more costly than dental bonding. However, porcelain veneers are a strong and long-lasting restoration that can greatly improve the appearance of the smile. This may be ideal for patients experiencing cosmetic flaws other than just a chipped tooth.
Contact Us
At Forney Family Dentistry, we offer a comprehensive range of dental care that can meet the oral health needs of your entire family. If you'd like to learn more about our cosmetic or restorative dental treatment options, contact us at your earliest convenience. We look forward to hearing from you!
Related to This