Restore Gum Health with Root Planing and Scaling Treatment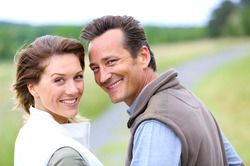 Gum disease is one of the leading oral health problems facing Americans today. Simply put, gum disease is an infection of the gums caused by a buildup of plaque, tartar, and bacteria. If left untreated, this infection can spread to the jawbone and even cause tooth loss. Fortunately, gum disease is treatable with restorative dentistry procedures like root planing and scaling. Root planing and scaling is highly successful at eliminating gum disease and restoring oral health. Learn more in this overview from Forney Family Dentistry & Orthodontics.
What Is Root Planing and Scaling?
Root planing and scaling is periodontal procedure used treat gum disease. Root planing and scaling treatment becomes necessary when gum disease has led to the development of pockets between the teeth and gums. These pockets are created as plaque and tartar build along the gum line. As more and more plaque and tartar collects, the gums will begin to separate from the teeth. This allows more plaque, tartar, and bacteria to collect. If left untreated, pockets can become so severe that the teeth loosen or even fall out. Thankfully, root planing and scaling is highly effective in closing pockets and treating gum disease by thoroughly cleaning the teeth.
The root planing and scaling procedure is relatively simple and is performed in a single dental visit. Though root planing and scaling is generally painless, the patient's gums will be numbed before the procedure begins. To perform root planing and scaling, a metal dental scraping tool, an ultrasonic tool, or a combination of the two, are used to gently remove plaque and tartar at and below the gum line. The teeth may even been cleaned down to the roots if needed. In severe cases of gum disease, root planing and scaling treatment can be performed in sections to allow recovery in between treatments. Also, antibiotic fibers may be placed between the gums and teeth to prevent further infection and help the gums heal. These fibers will be removed by your dentist after about a week.
Ensuring Root Planing and Scaling Success
Even after root planing and scaling is performed, it is still possible for gum disease to return. The true success of root planing and scaling treatment depends on patient aftercare. The number one way to prevent gum disease from returning is practicing proper oral hygiene daily and seeing your dentist for regular check-ups and professional cleanings. Here are some tips to help you ensure the success of your root planing and scaling treatment:
Brush for a full two minutes at least twice a day. When brushing, be sure to thoroughly brush along the gum line and use small, circular motions.
Don't skip flossing. Floss at least once a day, being sure to floss along each side of each tooth as far into the gum line as possible.
Use an antiseptic mouthwash after brushing to reduce bacterial infection.
See your dentist at least every six months for a regular check-up and cleaning.
Find Out if Root Planing and Scaling Is Right for You
To find out if root planing and scaling is right for you, we welcome you to schedule a consultation with our team today!
Related to This