Instant Orthodontics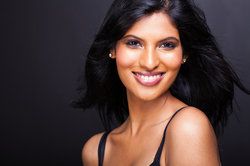 When most people hear the word "orthodontics," they often think of the various types of treatments and apparatuses that are used to straighten and align the teeth, such as braces and retainers.
Unfortunately, this type of orthodontics not only takes anywhere from several months to several years to fully complete the treatment, but is also commonly associated with youngsters sporting mouths full of metal.
Fortunately for Forney patients that want to fix their teeth without looking like their teenagers for the next several months or even years, an alternative known as instant orthodontics immediately fixes and straightens teeth, providing natural and long-lasting results.
The first step is to consult a knowledgeable and reputable cosmetic dentist to see if you are a good candidate for instant orthodontics and to ensure that you receive quality treatment and results.
What Is Instant Orthdontics?
Instant orthodontics more specifically refers to using porcelain veneers to mask and fix imperfections on the teeth. Porcelain veneers are thin, custom-made ceramic shells that are adhered to the front of teeth, masking any of the following issues:
Cracked teeth
Chipped teeth
Crooked teeth
Uneven teeth
Gapped teeth
Stained teeth
Porcelain Veneer Procedure
The porcelain veneer procedure takes no more than a couple of weeks to complete from start to finish but will leave you with a radically transformed mouth that will appear as though you have undergone years of complex orthodontic work.
Placing the veneers consists of your cosmetic dentist taking an impression of your natural teeth from which your new porcelain veneers will be molded. You will receive temporary porcelain veneers while your permanent ones are being made. Once your porcelain veneers are ready, your cosmetic dentist will place and adhere your porcelain veneers to your natural teeth. Your porcelain veneers should blend seamlessly with the rest of your teeth.
Porcelain Veneer Aftercare
Properly caring and maintaining your porcelain veneers will help ensure that they last for several years. Once your porcelain veneers are in place, you make sure to consistently practice the following oral health habits:
Floss at least once daily.
Brush at least twice daily with a soft-bristled brush and non-abrasive toothpaste.
Avoid foods and drinks that are high in sugar, which can cause tooth decay. If you do consume food that's high in sugar, attempt to brush your teeth immediately after.
Keep your mouth well hydrated by drinking plenty of water and keeping conditions like heartburn and acid reflux under control.
Wear a mouth guard during contact sports or during nighttime grinding.
Avoid chewing on hard candy or objects.
Schedule regular check-ups and cleanings with your cosmetic dentist.
For any questions or concerns you may have regarding your porcelain veneers and how to properly care for them, always consult your cosmetic dentist for more detailed instruction.
Learn More about Instant Orthodontics with Porcelain Veneers
You can give yourself the smile you've always wanted without suffering through years of embarrassing "metal mouth" with instant orthodontics. You can now forgo long and painful orthodontic work and achieve immediate, beautiful, and long-lasting results that will radically transform your smile. To learn whether you are a good candidate for instant orthodontics with porcelain veneers, schedule an appointment with the skilled dentists of Forney Family Dentistry today.
Related to This